Creating a Hub for San Luis Obispo Tourism
In 2013, the San Luis Obispo Tourism Business Improvement District (SLO TBID) sought to identify and select a new digital marketing agency to enhance and expand their tourism program.
Though they had a detailed strategic plan guiding them, they had lofty growth goals – amplify brand awareness, increase content engagement, and convert online visitors to in-person visitors – and recognized the challenges they faced including lack of brand identity and a competitive regional market. They needed an agency partner to pave the way to overcome these obstacles and achieve their goals.
In partnership with a local public relations agency, we took over the SLO TBID account in 2014 and immediately went to work. SLO TBID's digital landscape and brand messaging was fragmented across three websites and four different brand marks, resulting in a brand log jam. This needed to be streamlined, and led to a revamp of the entire digital ecosystem, creating a solid foundation through which to distribute content, while establishing a consistent brand identity.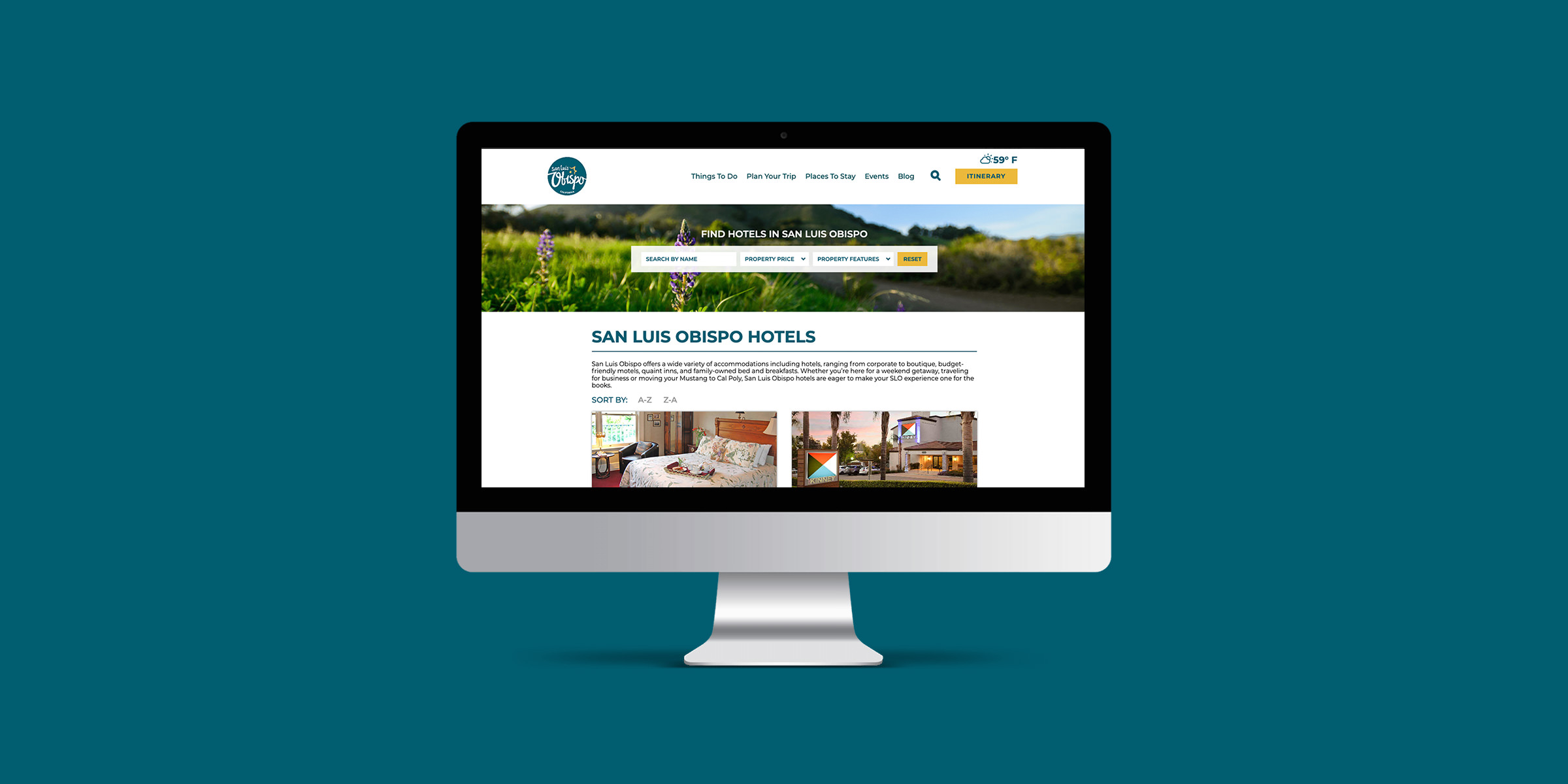 We redesigned and rebuilt the website by incorporating a comprehensive events calendar, search engine optimized blog, interactive maps, and even transitioned the site to a new domain, VisitSLO.com. Rather than a static website, we approached it as another channel in the digital ecosystem through which to consistently share new, fresh content to inspire travelers, drive visitation and book room nights at San Luis Obispo hotel properties. Measuring the success of our approach against the goals of the strategic plan was critical, so we implemented conversion tracking across the site, including all hand-off points to hotel properties.
With a refined web presence, we developed a robust, 12-month content strategy that not only took into account events and seasons, but forecasted content topics based on search queries and travel trends. This resulted in a drumbeat of content people were interested in, consistent across all channels, in the form of website pages, blogs, emails, social media posts, and videos.
Part of the content strategy included overhauling the ambassador program, ShareSLO, established in 2012. We took an "insiders" approach, enlisting the help of locals and business partners to share San Luis Obispo-centric content across social platforms and the ShareSLO blog. ShareSLO became the place for visitors to get the inside scoop, allowing them to experience the city like a local, and provided locals an outlet to organically share what they love about San Luis Obispo. Visitors could explore SLO TBID's various content channels and create their complete itinerary. Our program efforts for the ShareSLO campaign were recognized in 2017 when Visit California awarded us with a Poppy Award for Best Content Marketing Initiative.

Eventually, we consolidated the sub-brand, ShareSLO, into the overarching SLO TBID brand and refocused ShareSLO as a hashtag campaign. As influencer marketing evolved, so did our content approach. In 2019, we shifted focus from a locals perspective to engaging out-of-market influencers to visit SLO and share their POV. During the 2019-2020 fiscal year, we welcomed 12 influencers to experience San Luis Obispo and invited their audience along for the ride, reaching nearly 7 million followers.
Our ongoing work with the SLO TBID resulted in year-over-year growth in visitors to San Luis Obipso. During the 2018-2019 fiscal year, the SLO TBID had a 7% increase in Transient Occupancy Tax (TOT) – the largest collection to date.