Alana Faith Chen Foundation
Suicide Prevention in the LGBTQ+ Community
At 14 years old Alana Faith Chen confessed to a trusted priest that she was attracted to women, she was met with scorn and rejection. After enduring years of abusive "pastoral counseling" attempting to change her and the resulting long-term effects on her mental health, we lost Alana to suicide on December 8th, 2019. The Alana Faith Chen Foundation was created in Alana's memory, in the hope that no other LGBTQ+ person has to face the road to recovery from suicidal ideation alone.
The Ask
Responding to an urgent need for help in the LGBTQ+ community, Alana Faith Chen Foundation began quickly, putting all effort towards fundraising. They came to us to lay the groundwork through storytelling and visual identity. Our goal was to define their mission in a way that was clear to grant recipients, donors, and potential partners. To help tell their story, our team was tasked with reimagining the visual identity in a way that represented Alana and the LGBTQ+ community.
The Solution
After discovery we found that although Alana's story is at the heart of Alana Faith Chen Foundation, and always will be, the issue of suicide and lack of mental health support among LGBTQ+ individuals is much bigger. With that, we created a mission statement that tells the story of Alana while explaining the financial barriers which prevent individuals from getting the help they need. A beautiful segue into the work that Alana Faith Chen Foundation is doing, which is providing therapy grants to LGBTQ+ individuals who are at risk of suicide.
When reimagining their brand, we wanted to capture the creative and beautiful soul of Alana. To represent the LGBTQ+ community we envisioned the palette to be bright and full of life, but stand out from other non-profits in the space. Through collage, contrasting colors, and playful illustrations we created a visual identity that felt optimistic and hopeful.

While suicide can be a heavy subject, and it's important to respect the heaviness of it, Alana Faith Chen Foundation should feel welcoming and open to all. Alana's story is powerful, and with this work, the hope is to give light to others to be able to share their stories.

Many like Alana live in isolation from friends and family, lack acceptance in their communities, and face harassment and victimization. Having access to therapy can make a significant difference in the lives of individuals struggling with suicidal ideation, and we at the Alana Faith Chen Foundation provide support by breaking down the barriers that prevent people from getting the help they need. This includes facilitating financial assistance, providing resources to those at risk of suicide, and creating awareness around the complex intersection of gender & sexuality, faith, and community.
Professional, licensed therapy is a critical component of treatment for LGBTQ+ adults who are at risk of suicide. Unfortunately, a lack of financial resources bars many from seeking the help they need. We aim to address this urgent need by providing financial assistance in the form of therapy grants, utilizing our extensive network of care providers to identify qualifying individuals. Donations from supporters like you help to fund these grants, ensuring that help is given to those who need it the most.

YOU'RE NOT ALONE
AFCF's platform on social media is an integral part of spreading the brand's awareness, providing crucial resources to those in need, and givethe organization a direct line of communication with its followers. The brand visuals utilize different visuals that speak to the organizations voice. Alana's love crafting and nature began as a jumping-off point for the aesthetics of the brand extension. Collages paired with hand-drawn illustration styles come together to evoke an empathetic emotion of relatableness and understanding.
"You're Not Alone" is the main messaging for AFCF's brand extension. Various collateral such as apparel and stationary were created to reflect the brand's growth of elevated narrative and visuals.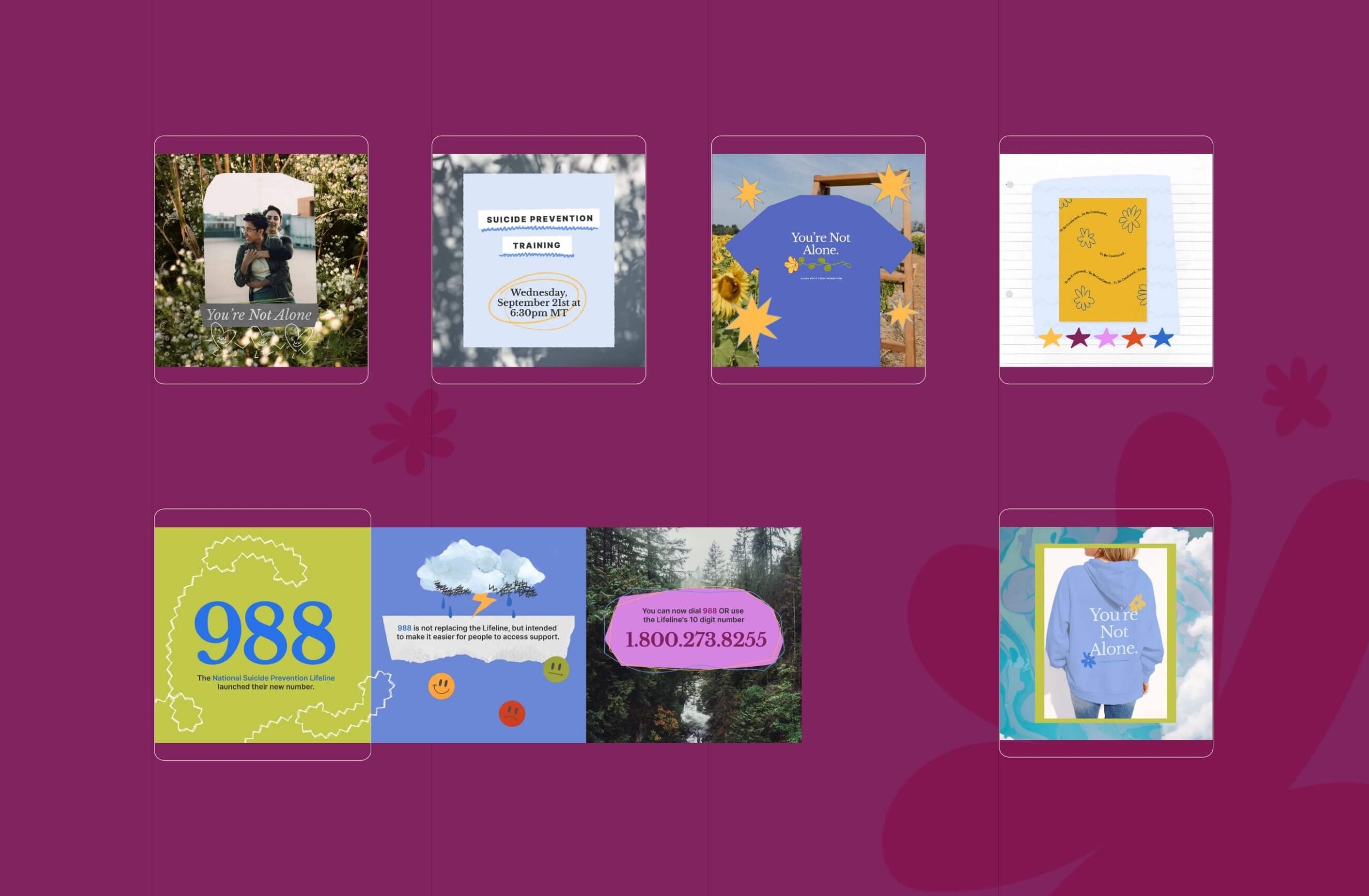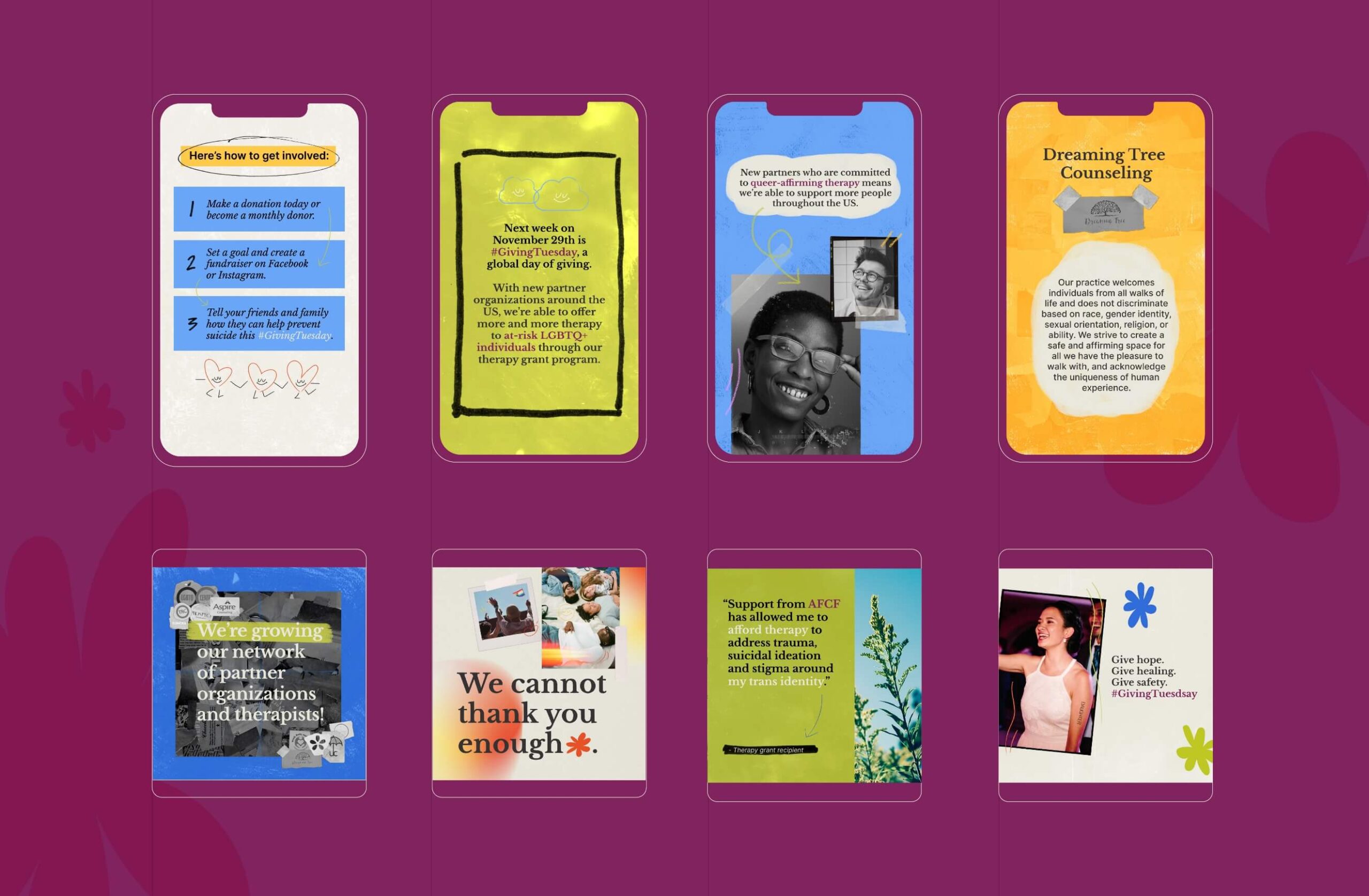 GROWING THE FOUNDATIONS REACH
Strategic counsel was provided on fundraising campaigns, along with the creative development of various social assets that helped secure funding and future partnerships to support the foundation's endeavors. Testimonials were used as a way to communicate to its potential sponsorships that the foundation could effectively provide the support and care they needed. We produced visuals across social platforms to ensure the AFCF could reach its followers. Most notably, the foundation participated in the well-known fundraising campaign #Giving Tuesday.