In an era of selfies, influencers and algorithms, it comes as no surprise that many people, especially younger generations, struggle with finding a balance on social media. Peer pressure for teens isn't a new topic, however, navigating this in a digital-first world is. With a constant feed of content that makes everyone's life seem #blessed, it's hard not to feel inadequate.
As most marketers can attest to, there has been a dramatic increase in discussions around the psychological impact of social media – from shaming to suicide. In response, social media networks have joined the conversation and activated their own initiatives to create safe, online communities.
Recently, Instagram partnered with The Jed Foundation to create a campaign directed at parents and teens called The Pressure to Be Perfect. The intention behind the initiative was to share tools and tips for teens to recognize that what they see on Instagram is only one part of the story, only one piece of someone's life. There is often more happening behind the scenes of a photo or context to a caption. Being able to recognize this results in more mindful time spent online and can alleviate the pressure to be perfect.
Instagram and The Jed Foundation wanted to deliver this message via an online toolkit for teens and parents.

Understanding that a traditional online toolkit wouldn't appeal to teens, Matchfire developed a campaign landing page that mimicked the look and feel of the Instagram platform complete with a profile picture, story highlights, posts and captions. Tips, resources, and quizzes were embedded into the page, allowing users to scroll through content just as they would an Instagram profile.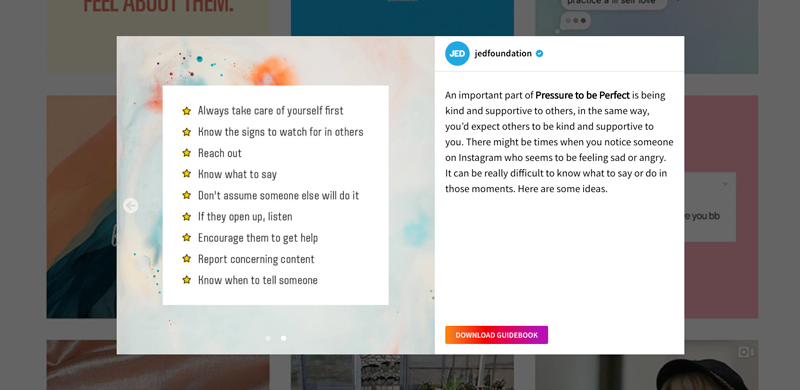 Full PDF toolkits, customized for teens and parents, were also created and available for download from the page.
Always keeping the target audience in mind, the Pressure to Be Perfect campaign was brought to life through colorful, modern creative and an innovative, yet familiar, approach to presenting content online.